The IPFire project is now running a crowd-funding campaign to build and maintain a new kind of captive portal built on top of the IPFire firewall system.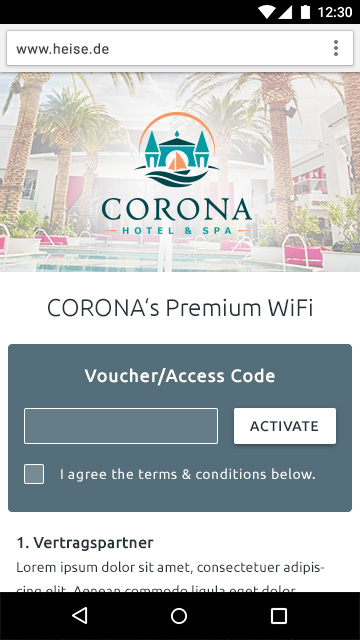 A captive portal is perfect to be used in any cafe, pub, hotel, school or anywhere else where a wireless network for guests requires one extra step
before the users are permitted to use the Internet.
The IPFire Captive Portal will offer that in two simple ways by redirecting the user to a login page. On there one of the following options is available depending on configuration.
Licence Agreement
The user will have to agree to a licence agreement that is shown on the web site. For that, one click allows using the Internet for up to a configured amount of time.
This is currently sufficient for professionals in Germany to allow guests to use the corporate network and be not held liable (Storerhaftung).
Using the IPFire Captive Portal in a cafe or company will allow you to give guest Internet access without any hassle and of course occording to the law in many countries.
Vouchers
It is possible to issue vouchers that can be handed out to users so that only people who have a voucher can use the network. These vouchers can be issues for a limited time and only permit using the network for a limited time, too.
This makes the IPFire Captive Portal great to be used in a hotel or where access should still be restricted to known guests only.
These two simple ways of authentication can be freely customised so that the IPFire Captive Portal fits virtually anywhere.
Features
Turns the

BLUE

or

GREEN

network zone into a secured guest network
Users will be redirected to a splash page where they need to agree to terms & conditions or need to input a voucher code.
Access can be given for only a few hours or indefinitely

Indefinite access is great for places with returning customers like cafes, pubs, etc. without the need to require guests to agree to the terms & conditions again.
User Frontend (Splash Page)
Customisable splash page with own title and logo (see examples below) so that customers will recognise that they are surfing with you
Enter your company's terms & conditions
Optimised for display on desktop computers and mobile devices
Administration Page
View a list of clients that are currently authorised to use the network
Access for certain clients can be revoked on the admin page at any time
Create new voucher codes with indiviual usage duration and expiration time
Demo of the splash page
---
---
Launched: February 5, 2016 at 2:00 pm • This funding runs until the goal is reached.